December 23, 2022
South Florida's Palm Beach is becoming a hub of art galleries, showcasing the finest works of art worldwide.
With its stunning waterfront views and vibrant culture, Palm Beach is the perfect backdrop for these collections. Visitors can expect to find works ranging in style from traditional to modern, with pieces varying in mediums such as painting, photography, sculpture, and more.
The galleries feature special exhibitions highlighting local artists and artwork inspired by South Florida's unique culture and landscape. As Palm Beach continues to grow as an artistic destination, its galleries will offer something for everyone—from the casual admirer to expert collectors.
Fine Art Galleries in West Palm and Palm Beach, Florida
West Palm Beach and Palm Beach, Florida, are home to a wide variety of art galleries offering something for everyone, is home to a vibrant art scene, and it's easy to find some of the finest art galleries in the world.
From contemporary works to classic pieces, there is sure to be something to suit your tastes and interests.
Here are some of the top art galleries:
Arcature Fine Art
Arcature Fine Art, located on Worth Avenue in Palm Beach, specializes in the acquisition and sale of major works by Impressionist, Modern and Contemporary artists.
Open year-round, Arcature Fine Art exhibits outstanding artworks in an approachable and friendly atmosphere.
With passion paired with expertise and experience, Arcature Fine Art offers clients unparalleled advice for acquiring art—whether for someone contemplating a first purchase or a seasoned collector looking to make an addition to an already well-established collection.
The Ann Norton Sculpture Gardens
The Ann Norton Sculpture Gardens feature outdoor sculptures from one of America's leading sculptors.
Lighthouse ArtCenter Gallery & School
Lighthouse ArtCenter Gallery and School of Art (LAC) is a for-impact art center focused on community. Their vision is to inspire, engage, and connect all walks of life through the universal language of art.
They offer art classes in media that vary from traditional to niche, display unique and captivating exhibitions, host social and educational events, and provide community-based art outreach programs to those in need.
DTR Modern Galleries
DTR Modern has been at the forefront of the art market since opening its first location in 2003. Today its seasoned gallery operation is the largest and most notable on the East Coast, with five brick-and-mortar locations inBoston, Nantucket, New York City, Washington, DC, and Palm Beach.
By showcasing modern masters through post-war and working with emerging, mid-career, and blue-chip artists or their estates for many years, DTR has cultivated exceptional long-term relationships and regularly exhibits a formidable collection due to direct access to studios and archives.
Our expert consultants have a collective experience of over 125 years, and are well-versed in assisting both serious art connoisseurs and novice collectors.
DTR Modern's program offers a significant privately-held selection of works by artists.
Evey Fine Art Palm Beach
EVEY gallery first opened in 2019 on Worth Avenue, Palm Beach and expanded to a new 3.500 sqft space at 240 S County Road in February 2021.
Familiar with the intricacies of a globalized art market, EVEY Gallery carries a diversified and unique portfolio of investment pieces and artwork by emerging talent with great vision and potential, showcasing contemporary artists from Latin America and Europe.
The art represented by EVEY Gallery makes a striking statement through its vibrancy and emotional complexity and, in some cases, the sheer scale of up to 9 feet.
Gallery Biba
Gallery Biba opened its doors on Worth Avenue in November of 2006. The realization of a vision by Biba St. Croix, Gallery Biba is proud to feature selections by the finest Modern and Contemporary masters.
With her unique eye and decades of experience, Biba St. Croix has curated selections from the most sought-after artists from around the world.
Exquisite paintings, sculptures and works on paper fill the gallery, including works by Pablo Picasso, Jim Dine, Andy Warhol, Robert St. Croix, Robert Rauschenberg, Fernando Botero, and numerous others.
Oditto Gallery
Oditto Gallery is the first fully hybrid gallery in the world to offer digital certificates (NFTs) with every piece of art purchased. This fine modern art gallery is gifts the NFT of the physical art with every purchase.
This value is unsurpassed in the modern fine art world.
The Oditto art gallery represents the top established and up-and-coming artists in the world and has unique art that attracts serious collectors.
Oditto Gallery offers infinite possibilities with custom art designed specifically for each client's space, tastes, and location, and has a robust collection of unique art and must-haves for collectors.
View some the our world-renowned artists and purchase straight from their gallery site.
Some popular digital artists include David Hockney, who is known for his iPad art, and Cory Arcangel, who often uses found or hacked images and video in his work. Other popular NFT artists are MadDog Jones, Cryptograffiti, Pak, XCOPY, Paula Urzica, Tran$parent, Toni Sanchez, Ron Burkhardt, Paul Nagy, Houben Tcherkelov, and David Banegas.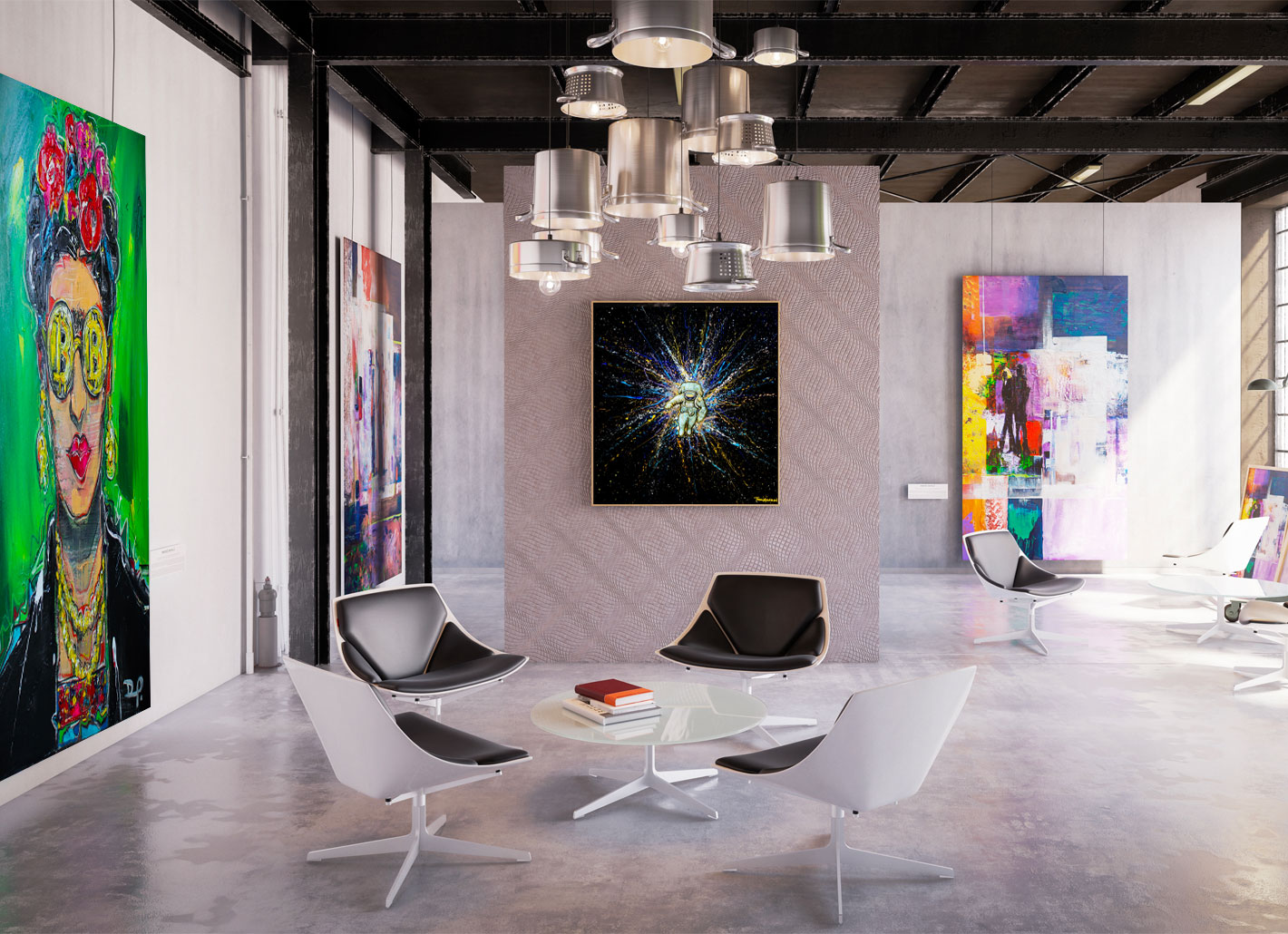 TW Fine Art
TW Fine Art was established by Mike De Paola in 2020. TW was founded after the team repeatedly witnessed the growing gaps between talented artists and the art world insiders who possess the knowledge and know-how to advance an artist's career to the top of the market.
TW Fine Art practices a hybrid model of fine artist representation and art collection management. Their in-house fine artist agency services entail managing an artist's career, along with the business backend required to produce and sell art.
TW Fine Art also helps artists become ever more financially and contractually literate, enabling them to better advocate for themselves and their work in an industry filled with grey areas.
They also pair fine artists with the right partner galleries, artist services, dealers, collectors, and companies on a global scale while also exhibiting and selling art directly from gallery outposts.
Robert Fontaine Gallery
The Robert Fontaine Gallery provides a platform for emerging, mid-career, and established artists ranging in historical scope from the origins of the Post War to the most current evolutions of digital media, conceptual installation, and urban interventionist.
The Gallery has widely covered national and international exhibitions with a mission to highlight a variety of innovative perspectives while maintaining a balanced audience of seasoned collectors and curious newcomers alike. Ensuring a critically engaging yet approachable atmosphere, the gallery employs an intellectually rigorous curatorial stance composed of the industry's most respected contemporary practitioners alongside groundbreaking young talent.
The Flagler Museum
The Flagler Museum offers a unique look into the past with its collection of items from Henry Flagler's Gilded Age estate.
Norton Museum of Art
At the Norton Museum of Art, you can browse an impressive selection of 19th- and 20th-century American paintings and sculptures.
The Museum's permanent collection now consists of more than 8,200 works in five curatorial departments: European, American, Chinese, Contemporary, and Photography. Since 1954, many distinguished additions have been made thanks to the endowment Mr. Norton created to purchase works of art.
They include masterpieces such as Stuart Davis's New York Mural (acquired in 1964), and Jackson Pollock's Night Mist (acquired in 1971).
The Society of the Four Arts
The Society of the Four Arts is a nonprofit cultural organization founded in 1936 with a mission to inspire and engage people through the presentation of outstanding artistic programs.
From November through April, the Four Arts offers hundreds of events, including concerts, art exhibits, workshops, films, children's programs, and more. The 10-acre campus along the Intracoastal Waterway in Palm Beach includes a performance hall, an art gallery, a modern education center devoted to lifelong learning, a library, a children's library, and beautiful sculpture gardens.
The Four Arts believes that the passion for music, the beauty of art, the thrill of drama, and the pleasure of literature bridge the gap from mere existence to truly living. It is our mission to share "the four arts" with everyone.
Each gallery offers a unique atmosphere, with different exhibitions from local and international artists year-round. Whether you're looking for an educational experience or want to take in some beautiful artwork, these galleries sure have something for you!
Famous Artists in Fine Art Galleries in Palm Beach, Florida
Famous artists in luxury fine art galleries in Palm Beach, Florida, include the likes of Dale Chihuly, a renowned glass artist known for his vibrant sculptures and installations; Jeff Koons, an American artist whose conceptual sculptures are often bold and humorous; and Romero Britto, a Brazilian pop artist who is well-known for his bright colors and joyful themes.


Other renowned artists at these galleries include Damien Hirst, whose pieces often focus on life and mortality; Takashi Murakami, a Japanese contemporary artist who creates colorful characters with influences from manga culture; and Jean-Michel Basquiat, an American painter whose works explore issues of race, identity, and class.
These galleries also feature works by Anselm Kiefer, a German painter who uses heavy materials such as lead to creating large-scale pieces; Yayoi Kusama, a Japanese avant-garde artist whose pieces are marked by the repetition of motifs; and Andy Warhol, a leading figure in pop art who is known for his iconic prints of celebrities.